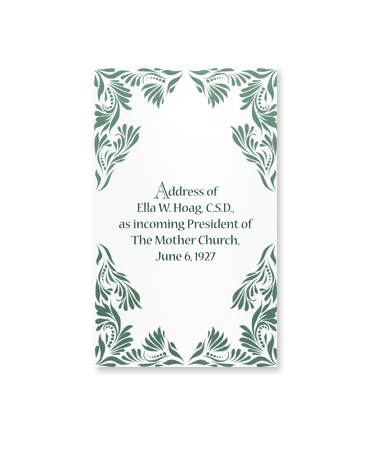 Address of Ella Hoag, C.S.D., as incoming President of The Mother Church, June 6, 1927
Folded card stock.
Dimensions: 5 1/2″ x 8 3/4″
Ella W. Hoag, C.S.D., found Christian Science in 1887 when she was given the textbook, Science and Health with Key to the Scriptures by Mary Baker Eddy. Mrs. Hoag had struggled with an illness that doctors in the United States and overseas could not heal. After earnestly reading the textbook, she contacted a practitioner for help and was restored to health within three weeks. She went on to have class with Mrs. Eddy in 1888 and became a practitioner and teacher of Christian Science. Mrs. Hoag served in Mrs. Eddy's household for two years, was appointed to the Board of Lectureship, became the Associate Editor of the Christian Science periodicals, taught the Normal class in 1919, and was the first woman to be elected as President of The Mother Church in 1927.
$3.00