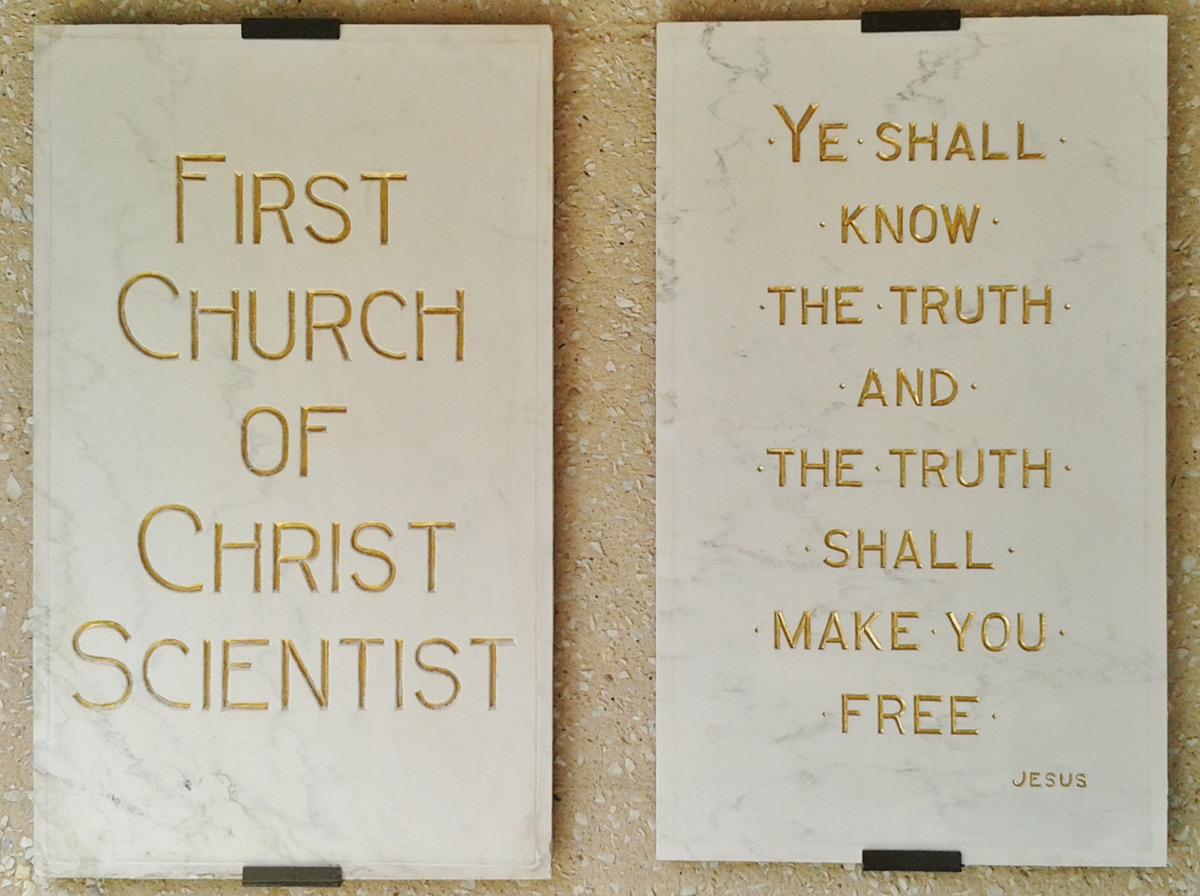 116 Years: A Journey from Peoria to Oklahoma City
History indicates that Christian Science was introduced in the small, riverside city of Peoria, Illinois, in 1885. Success in Christian Science healing practice by a small band of dedicated adherents to the teachings of Mary Baker Eddy, the Discoverer and Founder of Christian Science, encouraged modest but sure growth in the townspeople's interest in the religion through the late 1880s and early 1890s.
One of those early Peoria trailblazers was a woman named Jennie Logan Bryan. Having found physical healing through Christian Science after failed attempts by medical doctors to restore her health, Miss Bryan eagerly traveled to Boston in 1888 to receive advanced instruction in Christian Science from Mary Baker Eddy herself at the Massachusetts Metaphysical College. She returned to Peoria and was listed in The Christian Science Journal as a practitioner and teacher of Christian Science there from 1890 until 1948.
Miss Bryan was likely a part of the group of seven Christian Scientists who formally established First Church of Christ, Scientist, Peoria, Illinois, in 1892, which two years later received a charter from the state. The first public services were held in rented spaces in the city's Y.M.C.A., where members reportedly staffed their church's Christian Science Reading Room seven days a week! Attendance at services outgrew the space at the Y.M.C.A. and so the membership relocated and began holding services in the then newly-built Peoria Women's Club, a building which still stands in the city today.
The burgeoning church continued on a strong path of growth and soon members agreed to purchase a corner lot in the heart of Peoria. Led by its chairman, Jennie Logan Bryan, the Building Committee oversaw construction of a large, Beaux-Arts, Indiana limestone church edifice seating six hundred people beginning in June of 1898. Dedicatory services were held in January of 1899.
A distinctive feature of the second story exterior walls of the new church was the inclusion of four marble insets featuring carved, gilded lettering. Three of the tablet-shaped marble insets featured quotes from the King James Bible, and the last served simply as an identification sign:
"Ye shall know the truth, and the truth shall make you free" (John 8:32).
"The people that walked in darkness have seen a great light" (Isaiah 9:2).
"Now is come salvation, and strength, and the kingdom of our God, and the power of his Christ" (Revelation 12:10).
"First Church of Christ, Scientist"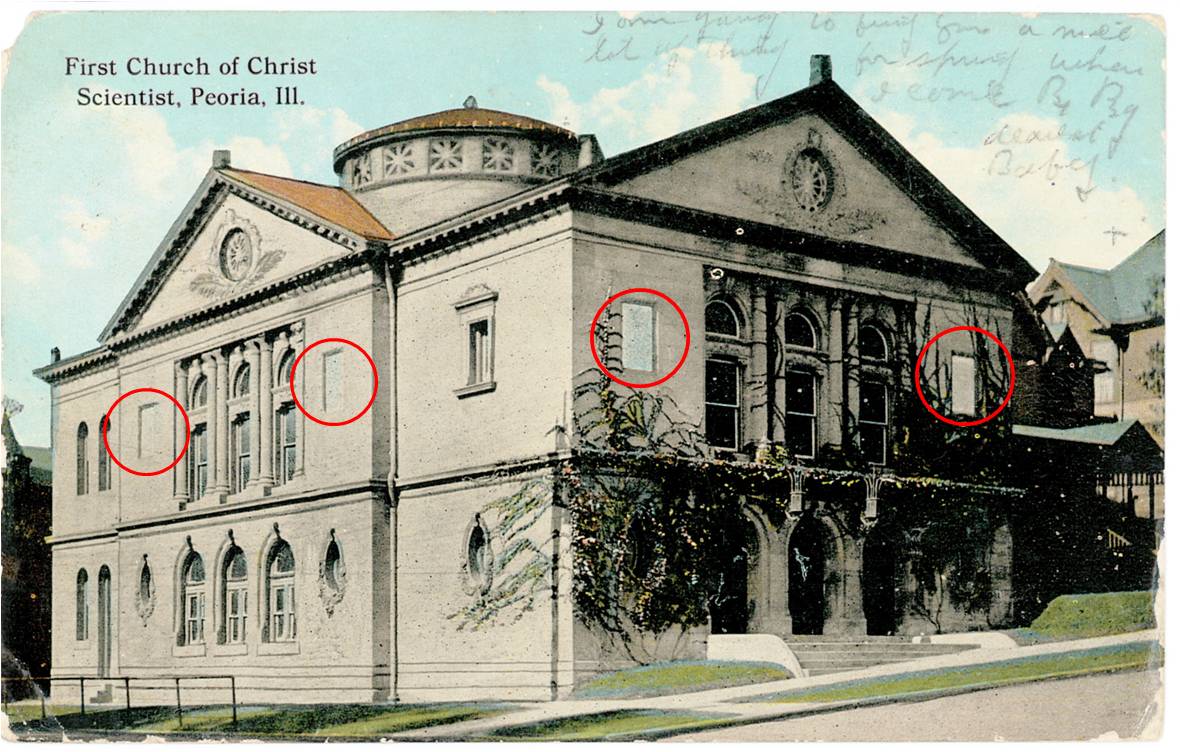 Marble tablets on 1914 postcard (locations circled), Daystar collection
The tablets outwardly and firmly established the source of inspiration of those inside to passers-by and were uniquely communicative architectural features of the stately edifice. And in a touching aside, these beautifully crafted tablets were lovingly and fully paid for by a fundraising campaign spearheaded by the children in the Sunday School.
The church continued to grow, even increasing the seating capacity to one thousand following a renovation and expansion project in 1927. Then, after more than sixty years of hosting Christian Science services in Peoria, the grand building was lost to a devastating arson fire in the early morning hours of July 5, 1962. Thirteen fire trucks and seventy-five fire fighters desperately fought the flames, but in less than one hour the soaring dome capping the auditorium was fully engulfed and collapsed into the building. Almost half of a million dollars in damage was done, and the membership decided to raze the structure and rebuild. However, despite the acutely destructive nature of the fire, the four marble tablets survived.
Rising from that same corner lot purchased in the 1890s, a modern edifice conceived by Faulkner, Faulkner and Associates of Chicago (a firm well known for designing Christian Science churches) was opened in 1966 and dedicated in 1967. Although not incorporated into the exterior walls of the building as before, two of the original four marble tablets did find a home displayed high on the walls of the lobby of the new First Church, Peoria. These stone sentinels undoubtedly served as inspiring symbols of victory, renewal, and progress for members and as reassuring signs of spiritual strength to visitors.
After over forty years in the 1966 edifice, the membership sold the building in 2008, and the tablets would once again be moved to a new home. The two with the quotes from Isaiah and Revelation were removed from the lobby at First Church and reinstalled in the lobby at Second Church of Christ, Scientist, Peoria, while the other two found their way south to a church in Florida. A longstanding friendship between two Christian Scientists in Peoria, one of whom had relocated to Deland, Florida, made possible the transfer of the tablets in 2010 to First Church of Christ, Scientist, Deland, a branch church that had recently moved into rented space, and whose members were pleased to have the tablets flanking the main entrance of their new location.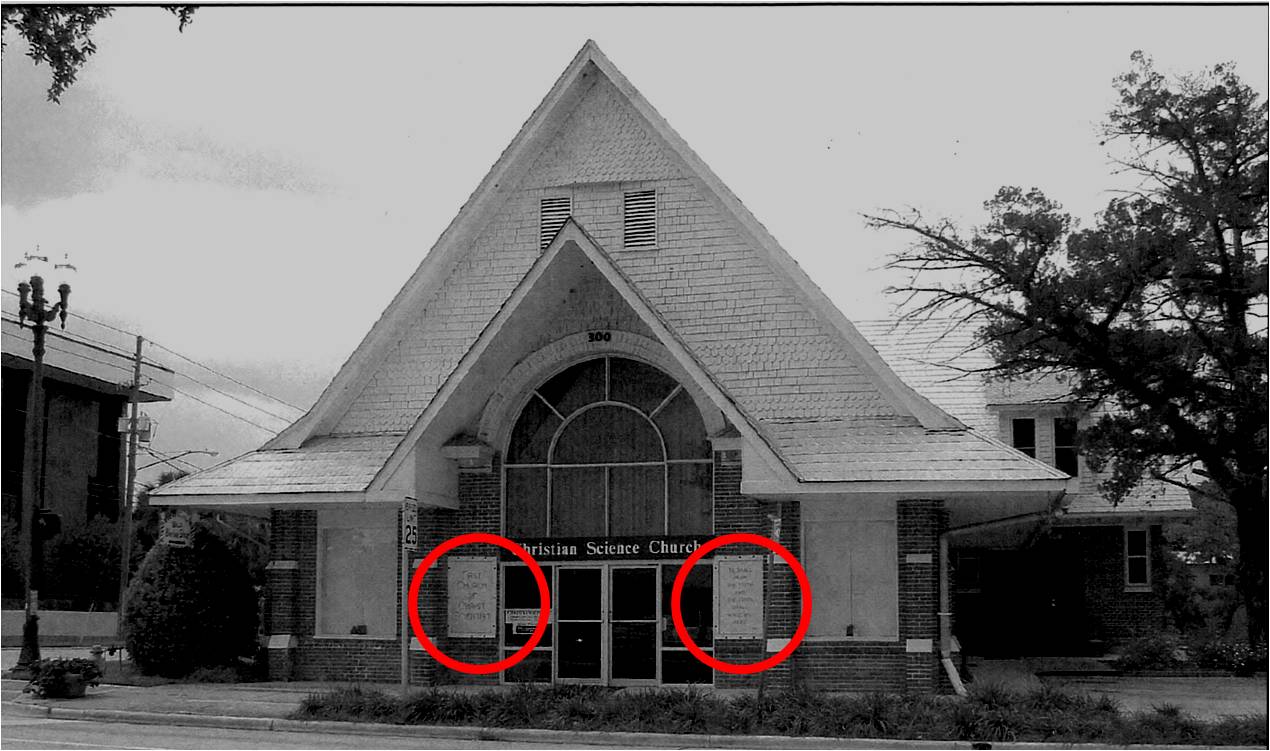 Marble tablets on former edifice of First Church of Christ, Scientist, Deland, FL
Again, the tablets were faithfully serving another branch church in bringing beauty, dignity, and inspiration to its edifice.
In late 2013, while a Daystar member was visiting First Church, Deland, in order to take photos of the former Christian Science church dating from 1930 for the Church Edifice Gallery on Daystar's website (more on that below), it was discovered that the church members in Deland had just voted to relocate once again and that their new space would not be able to house the marble tablets. After finding out a bit of the history of these tablets and seeing that they were in need of another new home, Daystar was suggested as an ideal location to care for and exhibit these unique historical pieces. Contact was made with Daystar staff, and plans were finalized with the church members in Deland to donate the tablets and move them to Oklahoma City for accession into Daystar's historical collection. They arrived in the winter of 2014 and were permanently installed as an outdoor exhibit in the courtyard.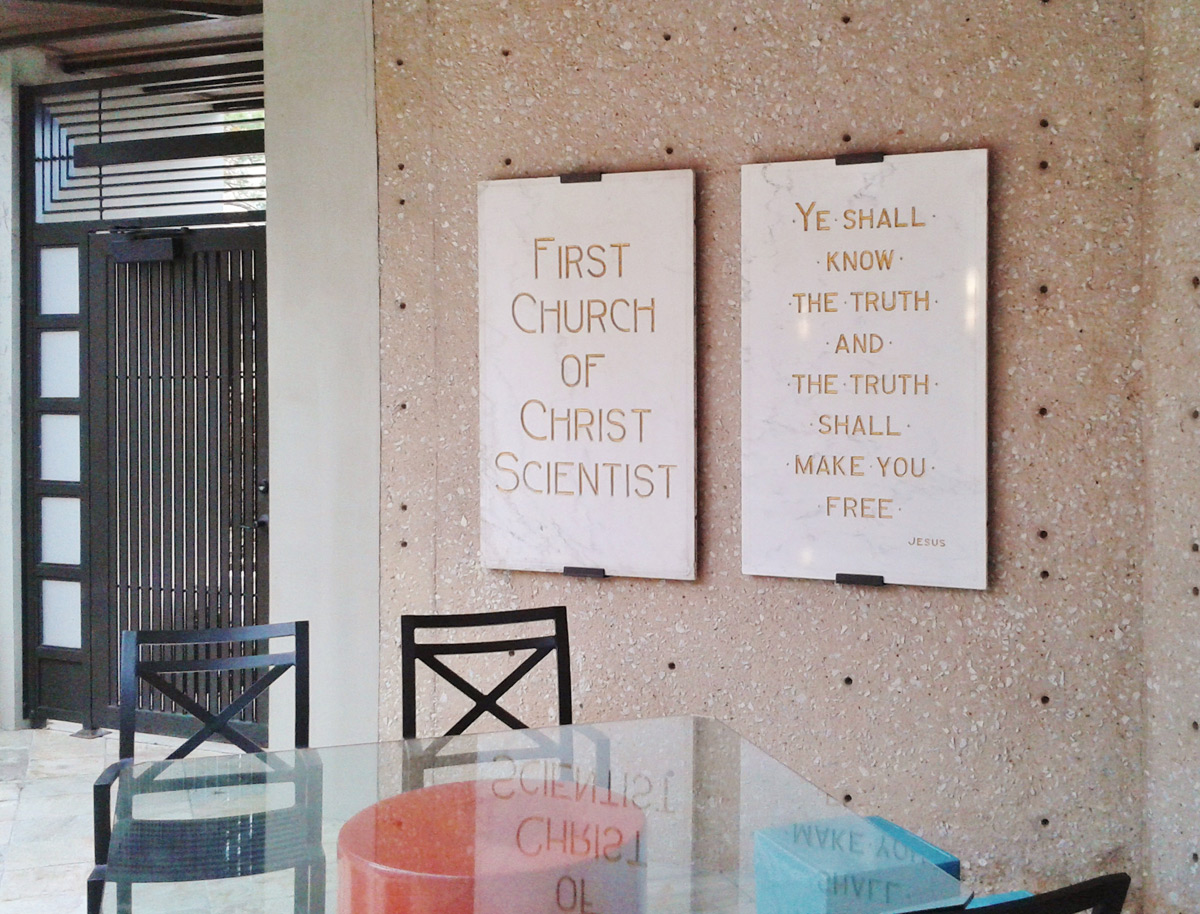 The tablets on exhibit in Daystar's courtyard
The tablets have quite a remarkable story, and we at Daystar are pleased to be able to share it. You are encouraged to come see them for yourself to truly appreciate their timeless beauty and distinction despite the long journey that began on the façade of the first Christian Science church built in Peoria in 1898 and ended on the façade of Daystar Foundation and Library in Oklahoma City in 2014.
Many thanks to the members of Second Church of Christ, Scientist, Peoria, Illinois, and First Church of Christ, Scientist, Deland, Florida, for compiling some of the information and photographs included in this piece.
The Church Edifice Gallery Project
Since 2013, Daystar Foundation and Library has been engaged in a photo documentation effort to capture images of every Christian Science church edifice that either currently holds or formerly held Christian Science church services.
The intent of the project, as stated on our website, is "Appreciating the historical legacy of Christian Science church architecture around the world." Christian Science branch church designs are sometimes grand, sometimes humble, and sometimes avant-garde, but all share a common foundation: they were built upon gratitude for, and the desire to share, the healing truths as taught by Mary Baker Eddy in Christian Science. This fact lends an uplifting sense of deep appreciation for the spiritual work that built these edifices and a special importance to their historical documentation through this project.
Please visit the Gallery page at our website https://daystarfoundation.org/gallery
There has been good progress as to the number of churches photographed, especially in the central part of the United States, but there is a very long way to go. We would greatly appreciate your help in adding to the collection. You can easily submit photos via our website and can even upload them right from your smart phone on the mobile version of our site.
Please note that we can only accept digital photos of church edifice exteriors for display in our online Gallery. Please see the photos in the Gallery for examples of the types of shots we are looking for. For full guidelines and submission details, please see our website.
Thank you for your help on this project.