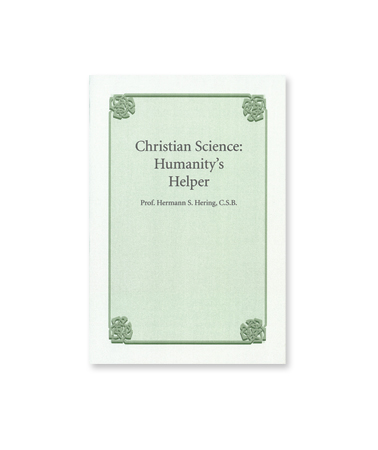 Prof. Hermann S. Hering, C.S.B., "Christian Science: Humanity's Helper"
37 pp.
Dimensions: 4 1/2″ x 6 1/2″
Hermann Hering, C.S.B., became interested in Christian Science following his healing of a prolonged physical problem. A highly educated and distinguished professional in the field of electrical engineering, Mr. Hering left a professorship at Johns Hopkins University in 1899 to exclusively work at furthering the Cause of Christian Science. He was First Reader of The Mother Church for three years and was asked by Mary Baker Eddy to serve as First Reader at First Church of Christ, Scientist, Concord, New Hampshire, providing him close affiliation with her household while she lived at Pleasant View in Concord. Mr. Hering also served on the Christian Science Board of Lectureship for over thirty years, as President of The Mother Church for one term, and was a teacher of Christian Science.
$6.00